Different types of Chandelier.- ULITMATE GUIDE
Different types of Chandelier.
Elegant and Exquisite chandelier makes your home beautiful. Once you add a chandelier to home it makes your home beautiful. There are different types of chandelier from which you need to choose what would be best for your home.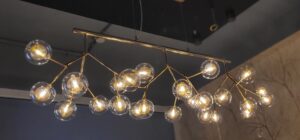 Types of chandelier may include – hanging chandelier, double height chandelier, living room chandelier etc. You need to see chandelier size & weight before choosing the chandelier. If you are confused before choosing a chandelier, you can go around your local shop or you can visit our store as well.
Different types of chandelier –
1. Crystal chandelier
Crystal chandelier is the most elegant and exquisite chandelier. When we talk about chandelier, most chandeliers are made up of crystal as it provides the spark and brightness to the home. In crystal there are several verities like K9, S4 etc. Crystal chandelier have different forms like they can used for dining room , staircase or bedroom as well.
Now a days, most of the chandelier in crystals are used for double height chandelier or in staircase for rain drop chandeliers.
2.Modern chandelier
Modern chandelier gives a futuristic vibe to our home. Modern chandelier may or may not includes crystals but they have different shape which you can see in below picture. They are design in a geometric way. These designs are mostly used in living room or dining room chandeliers.
These chandelier are designed for mostly that in kitchen or smaller living room . It's a small chandelier which gives beautiful look to the smaller room.
4.Rope chandelier
These are chandeliers that are made up of ropes. You can see the design below in image.
5. Borosil glass chandelier
These chandelier are made from borosil glass which are mold into the shape that you want. Beautiful chandeliers are made from borosil drops which gives a perfect look to dining or living room.
6. Traditional chandelier
These are chandelier which are traditional made up of brass, metal or steel as well. It gives a traditional and antique look to our home.
7. Arms or European chandelier
Now a days , European chandeliers are now trending. It gives a bulky look to our place. So before placing an arm chandelier a good size of room is require as it requires a good space , but the chandeliers our unique in their own way.
There are some other variety as well like caged chandelier, bowl chandelier , drum chandeliers etc. But most popular category of chandeliers, I have mentioned above. So you need to choose the best chandelier that fits for you.
Don't worry if you not able to choose the best chandelier. Just contact us and we will provide you the best solution after talking to our experts.